We carry out many rewires in the Wallington, Coulsdon, Croydon, Purley, Carshalton and Sutton areas. All of our rewire work is done by our in house team. We do not subcontract the work. We are fully insured over the industry standard. We are registered with NAPIT. This means that we can sign off the work and directly notify building control. For your peace of mind we are also registered with Trustmark, and we are WHICH trusted traders.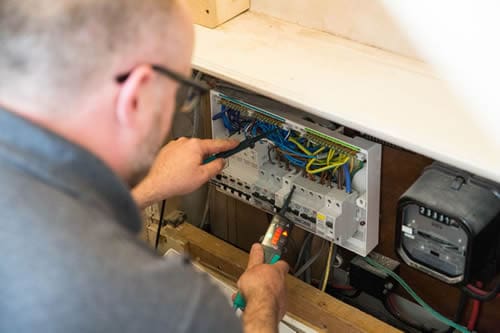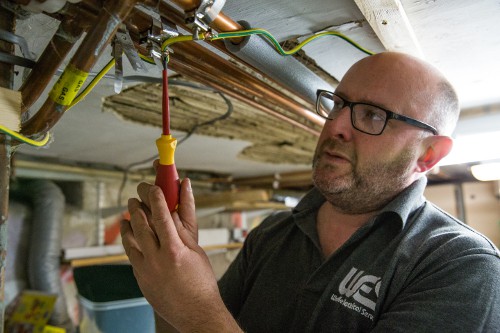 A rewire is a big, messy, and often expensive job and needs to be planned properly by the contractor and householder. A rewire replaces some or all the electrical wiring of a house. A 'rewire' is rarely just a rewire; householders often replace or add electrical items, for instance sockets, light switches and fuse boards. How will a rewire effect the householder?
In many cases the electrician will need to gain access through the floorboards to run wiring underneath the floors. This means taking up carpets and other flooring materials. It's not an easy, clean, or tidy task in the majority of cases. One of the messiest jobs involves drilling out channels in the walls to provide room to accommodate the new cabling. This is called chasing out.
Imagine chasing out a channel along the middle of just one wall in your home. Imagine the amount of dust and dirt this creates. Now imagine the same happening in each room in your home. This is what could happen when you require a full property rewire. Some people decide to move out while the work is being done. If you have recently bought a house that needs rewiring, we recommend getting the work done before moving in. You can then move in after all the messy work has been completed and concentrate on your own decorating.
•  Outside/Garden Power and lighting
•  Kitchens – what appliances are needed, hot water taps, under cabinet lights, heat lights, feature lights
•  Under floor heating in bathrooms, kitchens etc.
•  Central Heating and hot water electrical supply
•  Loft lights
•  Data and Ethernet cables
•  Security Alarms
•  Smoke and heat alarms
•  Anything else electrical your heart desires!
A house rewire is only done about once every 20-30 years so plan ahead. Make a list of the appliances you expect to have (run) in each room, including garages and sheds. The list can form the basis of discussions with the electrician. Take each room in turn and look what you have in the room now and think what you will want in the future. Some examples:

"I want to use my PC and TV in the spare bedroom."
"I want to have 2 bedside lights, a TV and 2 digital alarm clocks in the bedroom."
"I want to connect 3 games consoles to the internet in the living room."
"I want phone lines and data points in the kitchen, one for the telephone and some for future 'connected' electrical appliances."
Think about 'IT infrastructure' for instance home PC networks, telephones and game boxes that connect to the internet. The future will see more home networking and more appliances that connect to the internet.
Additional Items
Extra items added during a rewire will cost extra so bear this in mind and keep tabs on what you are adding and how much it costs.
How do you choose the right electrician?
Do some research:
•  Does the electrician have a website?
• Does the website look professional or amateurish?
• A 'professional' website suggests a 'professional' electrician.
• What local electricians are members of trade organisations, for instance NAPIT, Trust mark etc.
• Membership of a trade organisation is a good sign.
• Is the electrician in a 'Safe trader scheme'?
Get a proper fully itemised quote:
This states what is and what isn't included in the rewire. The householder and the electrician have to know what the rewire does and doesn't include.
Does the quote include:
• Parts, for instance light switches and electrical sockets?
• Basic redecoration? A rewire will mean making holes in walls and ceilings.
• A clean up? A rewire is a messy job.
• Moving furniture?
• Lifting and replacing carpets?
•  Post rewire electrical test and inspection?
A house will need an electrical test and inspection after the rewire.
It's important to know how much redecoration will be likely to be needed post rewire.
Most electricians will fill over chases and holes with a bonding coat or filler. This is then ready for a plasterer or decorator to finish.