Garden Lighting and Power
Having power and effective lighting in the garden is now a standard requirement of most homeowners. Fixtures and cabling used in the garden has to be weatherproof (IP rated) and tough enough to withstand interference from vermin and the like. Professionally installed armoured cables, water proof junction boxes, armoured glands and IP rated fittings will ensure you have a durable installation. What we can do in the garden:
•  Weatherproof sockets and switches.
•  Security lighting with sensors and timers.
•  Functional & aesthetic lighting: wall lights, up & down lights, recessed lights, flood
lights, spike lights and more.
•  Power supplies to garden offices, studios and summer houses.
•  Power supplies to electric gates.
•  Remote control garden lighting systems.
•  Supplies to Jacuzzi's and hot tubs.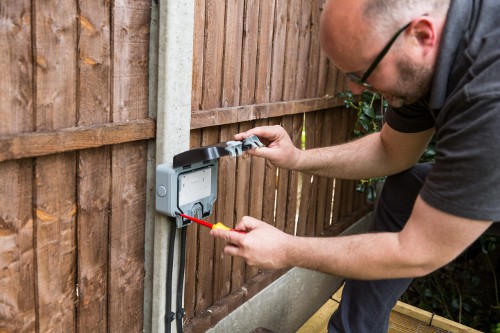 Summer house, Garden office/studios, Sheds and log cabins
There has been a huge rise in popularity of outbuildings in Purley, Coulsdon, Wallington and Carshalton. Whether you need extra space for storage, a quiet place to work or somewhere safe for the children to hang out in; a garden building can provide a great solution.
It's important to have the electrical supply to such buildings is safe and meets all your requirements. We have completed many installations including lights and sockets, heaters, fans and broadband sockets. Lights controlled from the house are also popular and prevent the argument about who is going to turn them off.
Wandle Electrical Services are registered domestic installers, and all work carried out complies with current IET Regulations, is Part 'P' compliant, fully insured and guaranteed.