Quality Electric Heaters vs Storage Heaters
There seems to be a lot of hot air on the internet concerning whether quality electric heaters or storage heaters are the best option for electric heating.  Having been an electrician for many years, I have fitted both and received lots of feedback from customers on their experiences of the different types of heater. Look at the table below for my thoughts on the advantages and disadvantages of both types of heaters which may help you to decide which type of heater is best for you.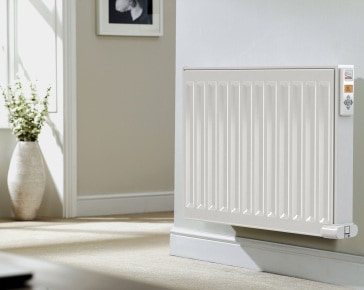 Above is an Electrorad Digiline, below an old storage heater.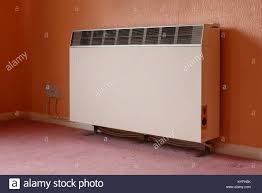 Efficiency:
Quality electric heaters:
run on a middle tariff and on the face of it are more to run per KW output as it is a more expensive tariff.  They have very accurate controls that can be used on the heater itself or via an app so you only have heat when you need it.
Storage Heaters:
Generally run on a cheaper E7 or E10 tariff  which means they need to be charged through the night.  Some of these tariffs have more expensive daytime electricity which cuts into any saving.  The heat doesn't last all day and on colder days the storage heaters store of heat can be exhausted by 8-9pm meaning an alternative source of heat may have to be used and paid for.
The overnight charging means you need to 'charge' them before you know for sure what your heating requirements are for the next day.  This is often a problem with the changeable weather we get in the UK.
Control:
Quality electric heaters:
Very controllable and therefore very popular in a variety of homes and offices.  Can be controlled via apps on phones etc Also can be hooked up with Amazon and other home automation systems.
Storage Heaters
Most storage heaters in use are dated and literally have one dial to monitor how much you want to charge them and one dial to regulate the temperature output.
Style:
Quality electric heaters
look more like a traditional radiator and in my opinion are a bit more stylish.  Available in lots of colours.
Storage Heaters
Bulky and ugly.
Cost to buy and install:
I think it's fairly even but will vary depending on the individual homeowners' requirements.  Both options will be cheaper than installing gas/wet electric heating systems and there will be less making good as there is no need for pipes, boilers etc.
Longevity:
Quality electric heaters
Have long guarantees/warranties some heaters have 30 year warranties.
Storage Heaters
Are pretty bomb proof.  Tend to have shorter warranties.  Can be difficult to get spare parts for many of the older storage heaters.
Summary:
Quality electric heaters
have a longer warranty, look better and are easier to control.
Storage heaters
Enjoy cheaper night time electricity rate so are cheaper to run.
If you need more information about the Electric Heating Solutions we offer then please call 020 8419 8345 or email Anthony@wandle-elec.co.uk.  For more online information visit www.londonelectricradiators.co.uk
Thanks for reading!
Your Local Electrician
Anthony Jones